The 100 Year Anniversary Celebration Of The First Dáil Eireann
Located At The Mansion House Dublin
On the 21st of January is the 100 years since the first Teachta Dáila convened for the first time. Resulting in realising an ambition to declare an independent Irish republic.
An assembly established by Sinn Féin MPs elected to the House of Commons of the United Kingdom in the 1918 United Kingdom general election. Upon winning a majority of Irish seats in the election (many uncontested), Sinn Féin MPs refused to recognise the United Kingdom parliament and instead convened as the First Dáil Éireann (translated as "Assembly of Ireland"): the unicameral legislature of a new notional Irish Republic, and the first Irish parliament to exist since 1801.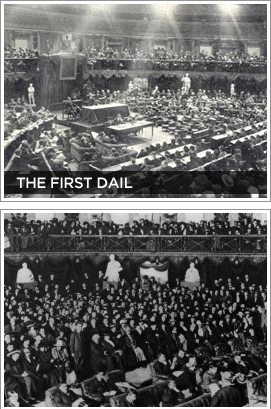 The session was conducted almost entirely in Irish, and it was George Noble Plunkett who was the first to speak, proposing Cathal Brugha as Ceann Comhairle. Today the Mansion House is the residence of the Lord Mayor of Dublin. It was a highly symbolic meeting.
Election
The Dáil elected Cathal Brugha as its Ceann Comhairle (chairman). A number of short documents were then adopted, this included the Declaration of Independence, that asserted that the Dáil was the parliament of a sovereign state called the "Irish Republic"; the Dáil established a cabinet called the Ministry or "Aireacht", and an elected prime minister known both as the "Príomh Aire" and the "President of Dáil Éireann".
A number of participants had been arrested the previous year over the so-called "German plot" , which alleged that a number of republicans had been engaging in "treasonable communication with Germany.
Contents of The Declaration
A part of the declaration went as follows: "We solemnly declare foreign government in Ireland to be an invasion of our national right which we will never tolerate, and we demand the evacuation of our country by the English Garrison."
And further: "We claim for our national independence the recognition and support of every free nation in the world, and we proclaim that independence to be a condition precedent to international peace hereafter."